The most important requirements for
the optimal gastronomy lighting concept

For a restaurant, bar or café a good interior concept can be just as important as good food, drinks or the service. PROLICHT has summarised here the most important points that have to be considered when creating a lighting concept for gastronomy projects.
Keep the following points in mind for your gastronomy lighting concept and fulfill not only the most important lighting criteria but define your identity through a perfect room atmosphere:

1. Comply with an optimal lighting of food and drinks
2. Provide glare-free and comfortable lighting for the guest
3. Create a pleasant room ambience
4. Use an individual design as a recognition feature


1. The optimal lighting of food and drinks

We also eat with our eyes! It is widely known that the look of our food greatly influences whether we like it or not. The presentation of food and drinks in an appealing ambience can help to make something tasty and appetising. As a result, it is vital for a successful restaurant visit that the food offer is presented as attractive as possible. A high Colour Rendering Index (or CRI) can be very helpful here to illuminate food as well as possible and to give a genuine impression of the food.
The brand new SNOOKER luminaires with a CRI of over 90 (with a maximum value of 100) represent an optimal solution for restaurant lighting concepts and make good quality visible. Furthermore, there are also special LEDs that can optimise the lighting in special applications even further.
2. A glare-free and comfortable lighting for the guest

As mentioned, the ambiance and atmosphere of a restaurant are as important as the services it offers. The mood or the length of stay of a guest are accordingly dependent on the lighting, which can be perceived both as relaxing and inviting but also as disturbing and uncomfortable. A successful lighting concept not only arouses positive emotions and creates a harmonious atmosphere, it should also make it possible to read a menu at any time without glare or reflection.
Each SNOOKER luminaire incorporates a patented LFO lens by Bartenbach: in this special lens, the light is focused through a tiny light exit so that it remains pleasantly in the background and illuminates only the area that is really to be illuminated. With SNOOKER and the LFO lens, you can achieve particularly low UGR values ​​(Unified Glare Rating), thus increasing the visual comfort in the most varied gastronomy areas - the guest can concentrate on what he's come for without distractions.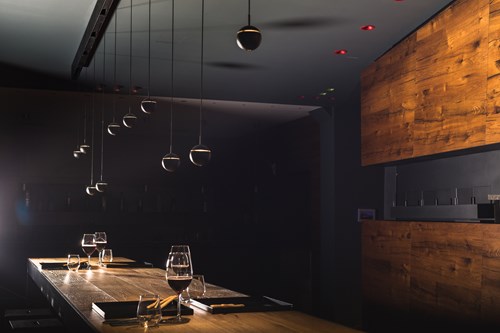 3. Create ambiance through light
Light is an essential part of the interior design and contributes a great deal to the overall atmosphere of a restaurant, a bar or a café. The lighting should not only illuminate the location, but also optimally stage the furnishings and premises. With the unique GRAVITY LIFT CONCEPT, PROLICHT enables you to master even the most demanding requirements in a brilliant way.
The GRAVITY LIFT makes it possible to continuously adjust the SNOOKER luminaires at all times, always bringing the light exactly where it is needed. Vertically and horizontally without tools (GRAVITY SERVING), the lighting can adapt to a changing interior architecture at any time (for example arrangement of the tables). The possibility of flexible zoned lighting allows individual tables to be illuminated brighter or darker without being noticed anywhere else in the room. If the brightness at the table is higher than in the environment, this creates a protected and thus very pleasant atmosphere for the guest. If the SNOOKER luminaires are suspended just as high as the respective table is wide, an optimum lighting result and thus an appealing atmosphere can be created at any time and regardless of the circumstances.
4. Design as a recognition feature
An optimal lighting is indispensable for a successful design concept in a restaurant - the guest feels comfortable in the restaurant and can spend a nice time. But how can one stand out from the other restaurants? For PROLICHT the answer is crystal clear: through an individual and extraordinary design that will be remembered. The individual design of the dining rooms can convey a special feeling and restaurateurs can stage the atmosphere as they imagine it to be for their project.
The SNOOKER luminaires not only offer the best technology for gastronomy concepts, they also characterise every room as a style element and give it an individual touch. Each SNOOKER luminaire is available in 25 PROLICHT colours as standard and an optional SHINE ring offers another style element: the transparent ring is available in 6 different colours and emits an atmospheric colour effect without an additional light source. GRAVITY MODELLING can also be used to create fascinating sculptures that constantly remake a space and communicate a brand through a feeling, not through words.
SNOOKER GRAVITY SERVING
Thanks to the unique GRAVITY LIFT CONCEPT, the SNOOKER luminaires can be individually adjusted at any time with just one hand. This way, new design options can always be realised for the same interior design: 1 table - endless possibilities!