Content
back to
Product Families

EITHER YOU HAVE IT - OR YOU DON´T
GROOVE
Light in a casual style: GROOVE is characterised by its distinctive design that uses fresh, bold colours to set a new course. The luminaires feature aluminium profiles and the recessed, slightly curved diffuser that is the GROOVE trademark. The set-back illumination surface creates the remarkable KORONA EFFECT. With GROOVE the profile's inner side can be modified in a different colour to the outside. 
TECHNICAL DESCRIPTION
The domed diffuser enables the impact-resistant GROOVE (trimelss, recessed) to provide homogenous illumination for large areas. Housing and reflector colour combinations create focused lighting moods without affecting the colour of the light.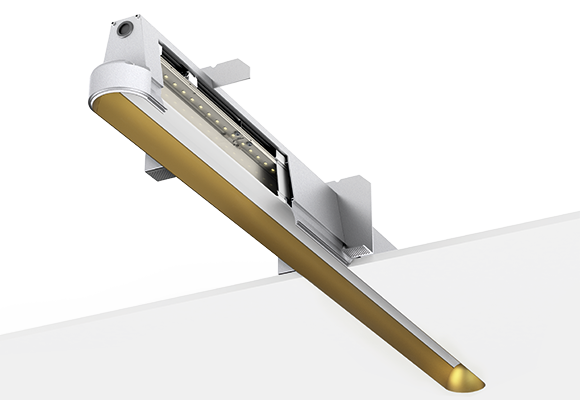 REFLECTOR & LED | An internal white reflector improves the efficiency of GROOVE. LED Zhaga boards are available with a high efficacy of light.
DIFFUSER | GROOVE uses a deeply recessed, curved opal diffuser for a uniform light distribution.
HOUSING | For recessed, surface and suspended GROOVE the housing can be coloured differently than the internal cover choosing from 25+5 PROLICHT colours.
MOUNTING BRACKET | An easy installation is guaranteed due to a clever mounting bracket for trimless installation into gypsum ceilings /walls of 10, 12.5 or 15 mm.
COVER & END CAP | The curved cover (trimless variant) is pleasantly lit up by the deeply recessed diffuser can be chosen in any of the 25+5 PROLICHT colours. The typical rounded shape of the aluminium end cap gives the impression that the light fitting is carved out of the ceiling / wall.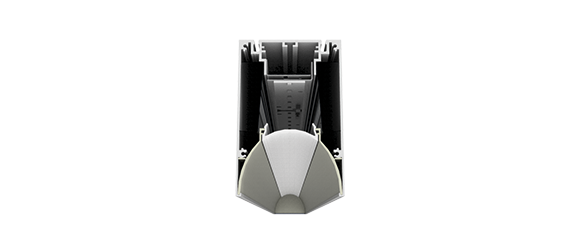 Recessed Diffuser
The 40 mm deeply recessed high-efficiency OPAL diffuser is a trademark of GROOVE and ensures high visual comfort in working environments. The uniform illumination lights up the curved side of the profile, creating a real eye-catcher and improving the light output even more with a recessed diffuser.
KORONA FRAME
A characteristic feature of the GROOVE light is its gently curved, recessed diffuser (a flat diffusor is also available with GROOVE SYSTEM). This recessed diffuser, in combination with the curved sides of the profile, creates an amazing KORONA EFFECT. On top of this feature, the inside can be finished in a different colour to the outside of the profile. A perfect solution for harmonious integration into your interior or as an eye-catching branding element.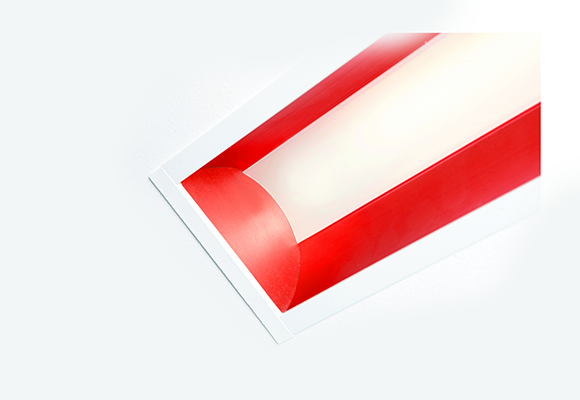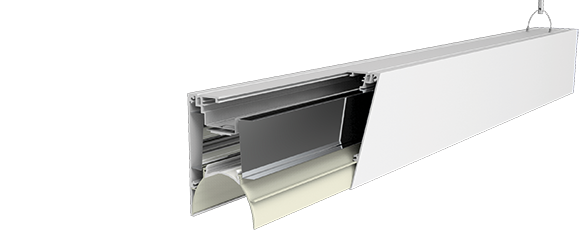 HIGHLY EFFICIENCY INTERNAL REFLECTOR
The new internal reflector is made of a microcellular reflective sheet material with an increased reflectance of 97%, which improves the efficiency of GROOVE. On request, GROOVE is also available as a double-output version for high rooms, alongside the standard Zhaga LED boards. GROOVE is not just a decorative luminaire, but a profile system which can be used in hospitality or corporate office environments.
Product
GROOVE
GROOVE ROUND
Mounting Option
Trimless
Trimless
Dimension

H 135:

880 x 75

,

1160 x 75

,

1440 x 75

,

1720 x 75

,

2000 x 75

H 135:

950 x 75

,

1230 x 75

,

1510 x 75

,

1790 x 75

,

2070 x 75

Lumen
1030 - 2530
1030 - 2530
Watt
15.2 - 35.4
15.2 - 35.4
LED / CCT
3000K, 4000K
3000K, 4000K
Control

DALI Dim

Nicht dimmbar







Protection Rate

IP20







Ceiling Thickness
10mm, 12.5mm, 15mm
10mm, 12.5mm, 15mm
Beamwidth

Superspot

Superspot
Product
GROOVE
Mounting Option
Recessed
Dimension

H 120:

900 x 92

,

1180 x 92

,

1460 x 92

,

1740 x 92

,

2020 x 92

Lumen
1030 - 2530
Watt
15.2 - 35.4
LED / CCT
3000K, 4000K
Control

DALI Dim

Nicht dimmbar




Protection Rate

IP20




Beamwidth

Superspot
Product
GROOVE
Mounting Option
Surface
Dimension

H 120:

895 x 80

,

1175 x 80

,

1455 x 80

,

1735 x 80

,

2015 x 80

Lumen
1030 - 2530
Watt
15.2 - 35.4
LED / CCT
3000K, 4000K
Control

DALI Dim

Nicht dimmbar




Protection Rate

IP20




Beamwidth

Superspot
Product
GROOVE
Mounting Option
Suspended
Dimension

H 120:

895 x 80

,

1175 x 80

,

1455 x 80

,

1735 x 80

,

2015 x 80

Lumen
1030 - 2530
Watt
15.2 - 35.4
LED / CCT
3000K, 4000K
Control

DALI Dim

Nicht dimmbar




Protection Rate

IP20




Beamwidth

Superspot
;